ATTRATTIVE DEL TERRITORIO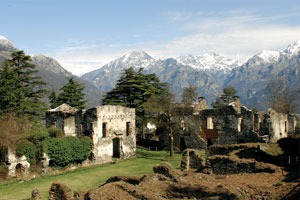 History: Colico is the last town on the eastern shore of Lake Como, at the foot of Mount Legnone.

This area, key point of trade between North and South, has been inhabited since Roman and pre-Roman times.

In the past the town was ravaged several times by both the passage of foreign troops bound for Milan and from repeated pestilence and floods of the river Adda. At the end of the 17th century it was a swamp, but after the reclamation of the plain of Pian di Spagna (1858) it has become a huge natural reserve called "Oasis of Pian di Spagna", the starting point for numerous excursions.

Historical remains are the Fort Fuentes, wanted by Pedro Enriquez de Acevedo, Count of Fuentes, Governor of the Duchy of Milan and Fort and Montecchio North, the best preserved fortress of the Great War in Europe.

Places of spirituality: the ancient Cistercian and Benedictine Abbey of Piona of XII-XIII century, San Rocco, San Fedelino, a small Romanesque temple, San Miro.

Dishes of the lake:
Sciatt, Taroz, Pizzoccheri, Bresaola, Polenta, Rice and Perch, Misoltin, Lake Whitefishes and many other delicacies…

Art: Peasant Art Museum, Fontanedo Towers, Cycles of frescoes in San Rocco church and the cloister of Piona Abbey.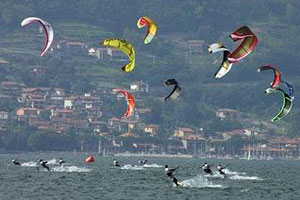 Music: Festival "Music on the Water" from June to late July including Workshops for children.


Sport: Colico and Mount Legnone paths are well illustrated on CAI cartography.
In addition:
- schools of sailing, kayaking, kite surfing and wind surfing
- horse riding
- tennis courts
- equipped beaches on the lake
- Fly Emotion, a few kilometres away in Valgerola

FACILITIES

At the farmhouse there is a solarium, the possibility of playing the guitar and the piano, having lessons in Italian and Latin, and visiting the farm.

The car park and bicycles are available free of charge.

From June to September, the Pro Loco and the town of Colico offer a full calendar of events including the Festa dei Sapori (Festival of Flavours), markets, music festivals, non-competitive motorcycle trips, the Festival of Cellars with food and wine trail and many more